The Contact Management feature of Gnosis can be used to record all types of interaction with individuals in your system: notes and meetings for participants, donors, volunteers, and more. Setup for different types of interactions is performed in Reference Data Management for the Contact Management Category, Service Type, and Contact Type list items.
In addition to setting up the contact management list items you need for each type of interaction, you may also wish to set up Contact Management Security options to restrict access to contact management records based on the chosen category. Doing this will make sensitive information for specific categories only available to those users entitled to view that information.
Contact Management Fields & Uses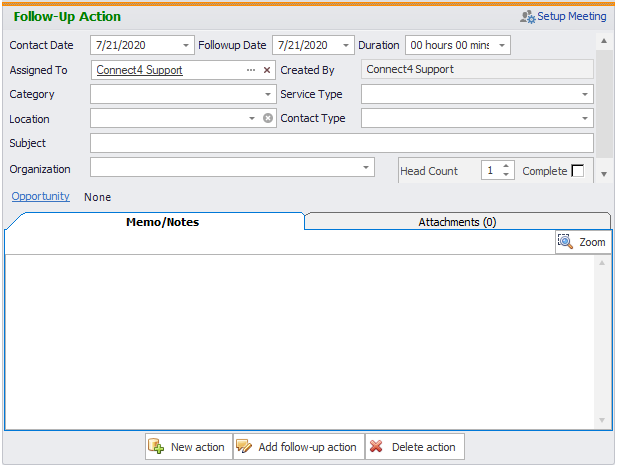 Contact Date is the date of the contact, Follow-up Date is the date that you wish to be reminded to follow-up on the contact. Entries with follow-ups approaching will appear on the home screen of the person who is assigned to do the follow-up. For no follow-up reminder, leave the Follow-up Date the same as the Contact Date.
Duration allows you to enter/track time spent during a meeting by entering the hours and minutes.
The Assigned To person must be a Gnosis user. Enter part or all of the first name of the person assigned to follow-up the contact and hit the enter key to verify the user. The Created By entry will automatically be saved as the name of the user adding the entry. If a follow-up date has been entered, the reminder will only appear for the person listed in the Assigned To
Categorizations available to classify the contact are:

Category*: Identifies the department managing the contact - typically Programs, Development, and Volunteer.
Location: Identifies the location in which the contact was performed or to which it is attributed.
Service Type*: Identifies the type of service that was provided. It is recommended for all departments to meet as a group to determine the list options you wish to have available.
Contact Type*: Identifies the type of contact such as in-person, phone, email, meeting, etc.
*CSC Clients Only: Category, Service Type and Contact Type are required for ADAPT reporting.

Subject will appear in the listing above as well as in reports.
Organization field will provide the list of linked organization(s) to assign the note to the organization record in addition to the person's record, if desired.
Head Count allows you to enter the number of people who attended the meeting.
Complete checkbox should be checked if no follow-up is required. If follow-up is required, make sure that the Assigned To and Followup Date fields have been appropriately completed.
Memo/Notes area is available for free-form notes and/or upload of scanned in attachments.
Example Entries
Participant Support Entry
Development Entry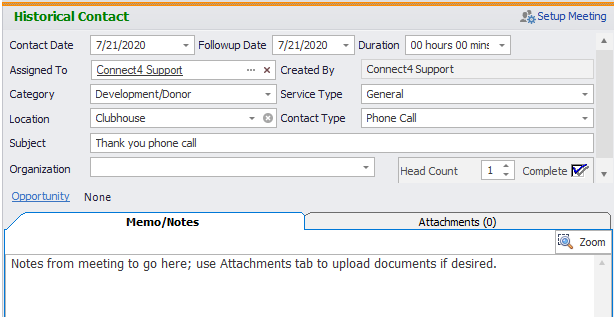 Reporting
In your report center, you should also find a number of standard reports that can be used in conjunction with the Contact Management function, such as:
Contact Management Follow-ups by Date
Contact Management Review by Selections