Gnosis version 1.2.860 and above supports an integrated Zoom Meetings option to allow ad-hoc one-on-one meetings to be set up with families, individuals or organizations via the Contact Management tab in Person and Organization records.
To set up your system for Zoom Meetings, see: Setting Up Zoom Meeting Integration.
Zoom Meetings in Contact Management
When setting up a future meeting and entering a placeholder contact management record for it, you can now book a Zoom meeting directly from the Contact Management tab.
To book a meeting, save a new contact management record and then click on the "Setup Meeting" button on the contact management record.
The Zoom meeting booking tab is then displayed to prompt you with the desired features for the meeting:
Edit the meeting name if desired. By default, the name will be filled with the subject name of the contact management record. This name will be displayed as the meeting title in the Zoom meeting.
Enter a password if you wish the meeting to have one.
Specify the date and time required for the meeting.
Select the Zoom Account (email) to be used for the event.
Select the options to be set when creating the meeting:

Auto Recording - The option to automatically record the meeting Locally or in the cloud (if you have purchased this option).
Host Video - When checked, the hosting person's video will be enabled
Participant Video - When checked, participant video will be enabled
Allow Join Before Host - When checked, participants may attend a waiting room before the host begins.
Mute Attendees On Entry - When checked, all attendees will initially have their audio muted.
Waiting Room - When checked, attendees will be held in a waiting area until you admit them.

Finally, press OK. The Zoom meeting will be created immediately.
To obtain the meeting URL, click on the "Setup Meeting" button again and click on the "Copy" button next to the URL for the meeting.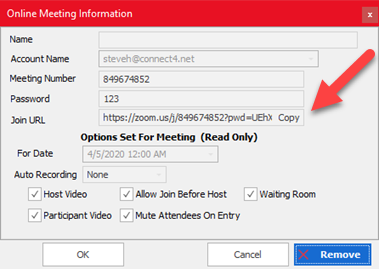 To start the meeting at the designated time, click on the "Start Meeting" button:
Client Access to Meeting Info
The optional Upcoming registrations, meetings & Group Events page in a person's portal pages provides a join link for online meetings created in Contact management as well as events and group meetings.

If you are familiar with the process for building Gnosis Portal Pages using the Composite CMS and you wish to build this page yourself, you will find the Gnosis function in the "Data Controls" folder - it is called "Person Itinerary".
Setup Daily Auto Reminders for Scheduled Meetings
See Contact Management Zoom Reminders