The Contributions Tab in Gnosis shows a summary of all gifts involving the person/record you are currently viewing. This tab includes Invoice payments and Gifts entered via Contribution Entry. The information on this tab may be configured in a number of ways:
Gifts may be defined based on a number of settings.
Different columns may be selected to display based on the width of your Gnosis application on the screen. Gifts can also be grouped and sorted in different ways.
Selecting Which Gifts to View
Viewing Related Organization Contributions
At the bottom of the Contributions tab, there is a button that loads all contributions associated with the loaded person on behalf of a linked organization.

Viewing Contributions Raised By the Person
You may also display contributions from other individuals that have been recorded as Raised By the person/ record you are currently viewing. A reminder that the Raised By field is available and populated during Contribution Entry, if necessary.
This option must be turned on on Preferences & Settings | Pledge/Contributions" section as shown below.
This option can be turned on for the entire organization or for the currently logged in user only.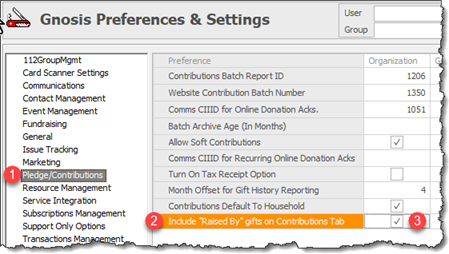 With this option turned on, Contributions donated by other persons but Raised By the current person will also be displayed. 
An additional column called Contribution From can be added to the current view and can be used to separate contributions made by the displayed donor and those raised by that person but made by another donor. (See the customizing grids article link below.)
We recommend you add two levels of Grouping (G in the image) to display these two groups of information (1 and 2) as depicted in the following image: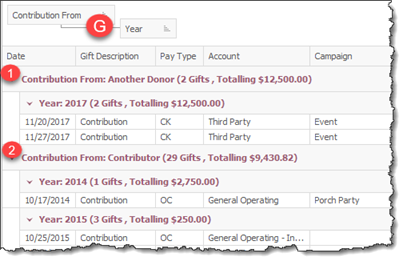 Selecting Columns to View, Sorting & Grouping
Please refer to the article covering Customizing the look and feel of grids in Gnosis.