Sometimes you may have an issue that cannot be easily explained in enough details to help support address your problem. To enable support to address your issue in these circumstances, we have prepared the following guide to record your screen to provide information to Gnosis support. You should only use this approach if requested to do so by Gnosis support.
BB Flashback Express is recommended for recording the last few minutes of the screen when using the application in order to communicate issues to support.
Installing The Software
Download BB Flashback Express


Available from https://www.flashbackrecorder.com/download-start-2/?edition=FlashBack:Ex6

Once installed, you will need to enter the license code that you receive by email when you run the application for the first time.
Setting Up Options
From the "Tools" menu, select "Options" in this area we will set two options to change the behavior of the recording: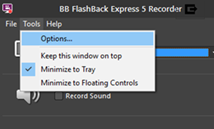 File Size Limiting: This option will be set to "

Limit by Time

" to limit the saved recording to the last few minutes of screen recording. This way, when you encounter a problem, you can stop recording and the file will contain only the last few minutes of the screen prior to the issue occurring. We recommend setting the option to

3 minutes

.




Advanced: Window Positioning: As we only want to record the Gnosis application, we will set the screen recorder to record only the Gnosis window when we begin recording. Here in advanced settings, we want to tell the recorder to "

track the window position while recording

" which will make sure that Gnosis will be recorded even if you move the application window during recording.
Recording
When ready to record, set the record area to "Window" and check on the "Minimize to Tray" option.
When you are ready to record, press the red record button. A dialog window will popup asking you to click on the window you wish to record, guided by a red border painted on the screen as you move the mouse. Once a window is selected, press the record button on the dialog and after the brief countdown, the recording will begin.

When Encountering An Application Issue
When you encounter the application issue, you will stop the recording by clicking on the BB Flashback icon (
) in the task tray in the bottom right-hand area of your screen, then select "Stop" on the popup menu.
Finally, choose "Save" to save the video recording and select a name to save it to. You can ignore the final window that offers the option to share.
Your recording should be 3 to 5 megabytes in size so should be suitable for email to support.