Gnosis Communications offers an integrated email service to manage outgoing emails to all constituents within one system, with a high level of customization, reporting, and tracking available. The Gnosis email system provides the following benefits vis-a-vis using an external email service: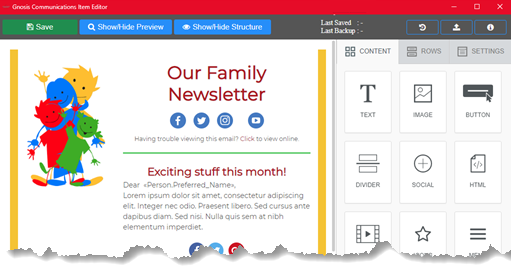 First-class email transmission through a highly reliable integrated service - SendGrid.
Manages multiple scenarios: bulk email, individual form emails, automated emails triggered by processes (online actions & system processes).
Communications log of all items sent in a person's record, providing detailed send data.

Coming Soon - New functionality to allow the resend of any email directly from the person's contact management log.

Ability to include virtually any data within email content for personalization.
Optional link customization to automatically log a person into their online Portal for various actions (donations, registrations, form completion, surveys, etc.)
Real-time recipient groups that immediately adjust recipients as status changes in the database.
Intelligent scheduling tool allowing single and recurring sending schedules.
Custom categorization of all communications for better overall communications management.
Manages individual communications preferences and opting out directly in a person's record.
Integrated email editor for easy drag and drop email creation of guaranteed mobile responsive content, including image library, button creation, video links, database fields, and more.
Statistics for each communications item, overall and open/click-through statistics for each recipient.
Email management is included in your Gnosis system. First Class email transmission through SendGrid incurs nominal fees. Find detailed info and level pricing based on email volume here.