This reference outlines the three different ways Gnosis provides linking between person records, and the functionality behind these record links.
Types of Record Linking
Households
Relationships
Organization Contacts
The image below identifies where each type of linking is completed and where linked records will show.
Households
A Gnosis household resembles an actual home, allowing you to identify all the records of the people who live in that home and therefore share a household.
The primary function of this linking is to help facilitate proper mailings to households and not individual people. See this training video on the importance and process for creating household mailing lists.
In term of contributions, linking spouses/partners by the household is the only way for records to share a giving history. When linked by household and the contribution type is set to Ack the Household, a gift entered under either person's record will appear in both gift histories.
Finally, household linking provides the ability to register or check-in other people (presumably family members) for events.
If you have personal records with multiple and identical households that need to be cleaned up, see this reference for instructions.
See also, Household Name & Salutation Formats.
Relationships
Gnosis relationships allow you to link any person with a connection to another person, regardless if these people live in the same home. For example, you would use this tool to link the existing records of adult children to parents, extended family members, even friends and other relationships you wish to track.
When linking one person to another, you are setting the relationship for both records at one time and so there is no need to open the other record for linking purposes.
The available Relationship types is a list within Reference Data Management which can be customized to add new values.
Why link records by household and relationship?
For proper use of Gnosis mailing lists, proper assignment of shared gift histories, and the ability to register check-in other household members, records must be linked by household.
For the most complete snapshot of a person and all the people they are connected to in your database, identifying what that relationship is, records must be linked by relationship.
Organization Contacts
The proper way to enter a new organization record and the organization contact (not necessarily in this order) is:
Create the new organization record with the address and other company contact info.
Create the new person record, even if that record contains only a first and last name.
Link the person record and the org record, identifying the following

Title - Enter the person's correct title.
Organization Role(s) - These roles are extremely useful in Reporting and Communications. This dropdown list is also customizable within Reference Data Management. It is highly recommended to apply organization roles for contacts - especially roles related to donor activity - to assist in the effective targeting of communications.
Primary Organization - Check to select as the person's main organization.
Verified - Can only be set in the Gnosis client as opposed to a web visitor joining the organization (only used in limited situations).
Org Admin - Sets permissions for the person to manage the org information via the web portal (if implemented in your system).
Work, Mail and Billing Address - Will all default to either the organization address or the person's household address depending on the setting of the preference "Settings -> Preferences & Settings -> General | Enable Prof. Services Mode". The option is then provided to select a different address from the drop-down, if necessary.

Work Address = Address where the contact is physically located.
Mail Address = Address to be used in general mailing communications.
Billing Address = Address to be used for any billing items generated through Gnosis systems, eg.: invoices and subscription documentation.

All linking details above are also later editable on the Contacts tab within the organization record. By single click to select the contact name, the details will appear at the bottom of the form.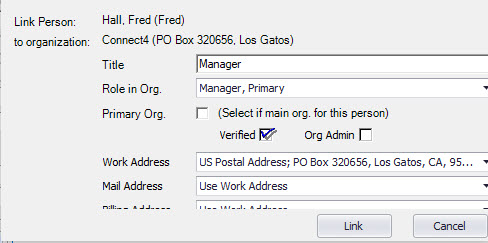 It is generally not a recommended practice to enter a person's business mailing address on the Household/Address tab in their personal record instead of in an organization record
Proper record setup and linking will allow for cleaner contact lists and overall record management.